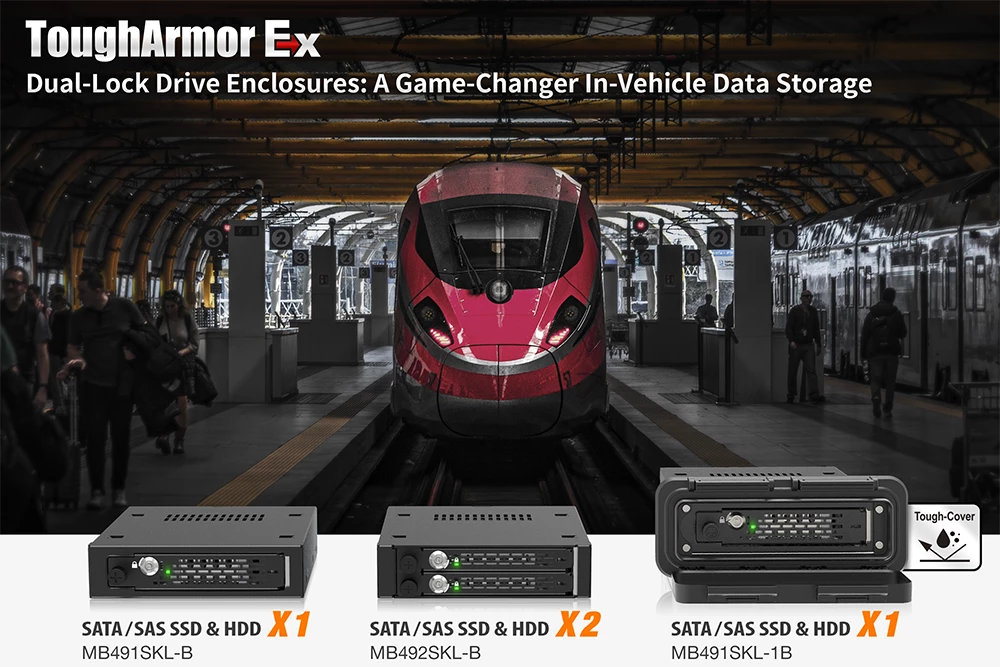 With the continuous advancement of electric vehicles, compact computer systems, and integrated software, the demand for faster and larger data storage in in-vehicle systems has become increasingly crucial. This includes electric cars, trains, buses, autonomous vehicles, aircraft, ships, and even military vehicles. However, the challenge lies in ensuring the security and functionality of the hard drives or SSDs within these systems while they experience constant movement and vibration. Loose connectors or drive ejection can lead to system crashes or data loss. Additionally, it's essential to be able to quickly replace faulty drives or extract data drives for backup without system shutdown.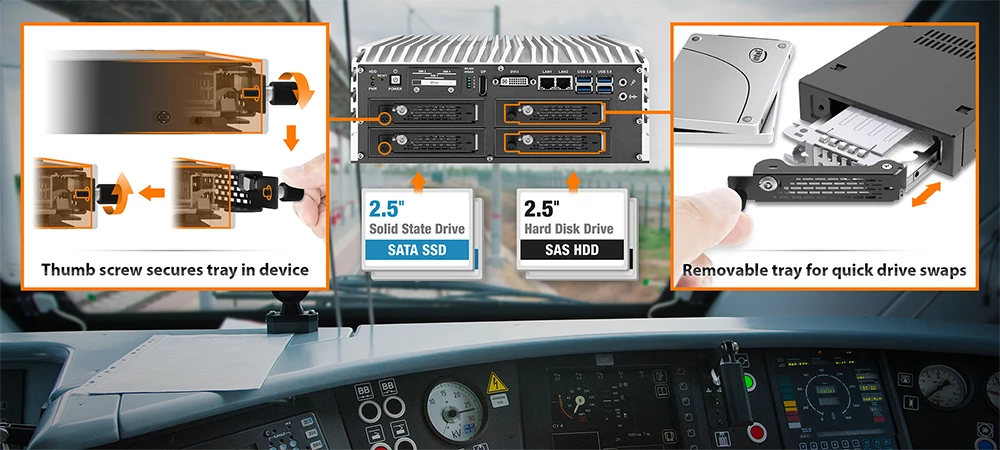 To offer a comprehensive storage solution for in-vehicle applications, ICY DOCK has developed the ToughArmor EX MB491SKL-B, MB492SKL-B, and MB492SKL-1B. These ruggedized enclosures are designed for 2.5" SATA/SAS SSDs/HDDs, provide support for drive hot-swapping, and feature a dual-lock system for enhanced security.
Key features of these products include:

| | |
| --- | --- |
| • | Full-metal housing and drive tray design with fire-resistant properties, making them ideal for in-vehicle systems. |
| • | Dual-lock design featuring a keylock for anti-theft functionality and a thumb screw to securely lock the tray to the metal body, preventing drive disconnection or data loss due to vibration or collision. |
| • | Removable drive tray design allows for hot-swap of drives without system shutdown, enabling convenient maintenance or backup. |
| • | Installation in a standard 3.5" floppy bay, compatible with most computer cases. |
| • | Support for 1x 5-15mm 2.5" SAS/SATA drive (MB491SKL-B) or 2x 5-9.5mm 2.5" SAS/SATA drives (MB492SKL-B & MB492SKL-1B). |
| • | Water and dust-resistant front cover for harsh automotive environments (MB492SKL-1B). |
| • | Industry-leading 5-year limited warranty with exceptional customer support. |
Many system builders and enterprises in the vehicular industry have already certified and implemented ICY DOCK's ToughArmor MB491SKL-B and MB492SKL-B in their in-vehicle systems. These systems have demonstrated stable operation with a near-zero failure rate, showcasing that ICY DOCK products meet enterprise-grade requirements.
For more information about the products, please click on the following links:
ToughArmor EX MB491SKL-B 2.5" SAS/SATA Drive Enclosure
•
Fits 1x 2.5" SAS/SATA SSD/HDD up to 15mm height
•
Installs into any standard external 3.5" floppy bay
•
Dual locks design – Keylock + thumb screw lock
•
Removable drive tray design for hot-swapping
•
Rugged heavy-duty full metal construction
•
Compliance with MIL-STD-810H method 516.8 & 514.8
•
Industry-leading 5 years limited warranty
ToughArmor EX MB492SKL-B Dual 2.5" SAS/SATA Drive Enclosure
•
Fits 2x 2.5" SAS/SATA SSD/HDD up to 9.5mm height
•
Installs into any standard external 3.5" floppy bay
•
Dual locks design – Keylock + thumb screw lock
•
Removable drive tray design for hot-swapping
•
Rugged heavy-duty full metal construction
•
Design to meet MIL-STD-810H 516.8 & 514.8
•
Industry-leading 5 years limited warranty
ToughArmor EX MB492SKL-1B 2.5" SAS/SATA Drive Enclosure
•
Equipped with Tough-Cover water and dust-resistant front cover
•
Fits 2x 2.5" SAS/SATA SSD/HDD up to 9.5mm height
•
Installs into any standard external 3.5" floppy bay
•
Dual locks design – Keylock + thumb screw lock
•
Removable drive tray design for hot-swapping
•
Rugged heavy-duty full metal construction
•
Design to meet MIL-STD-810H 516.8 & 514.8
•
Industry-leading 5 years limited warranty