What is USB 3.2?
USB 3.2 is a USB (Universal Serial Bus) standard that builds upon the previous USB 3.0 and USB 3.1 standards. It was developed to provide faster data transfer speeds and improved overall performance.

Increased Data Transfer Speeds: USB 3.2 supports multiple lanes of data transfer, allowing for even higher speeds than its predecessors. The maximum theoretical data transfer rate for USB 3.2 Gen 2x2 (the fastest variant) is 20 gigabits per second (Gbps). This is achieved by using two 10 Gbps channels for a total of 20 Gbps.

Backward Compatibility: USB 3.2 maintains backward compatibility with USB 3.1 and USB 3.0 devices. This means that you can use USB 3.2 ports and cables with older USB devices, although the data transfer speed will be limited to USB 3.1 / 3.0 speed.

Connector Types: USB 3.2 can use various types of connectors, including the familiar Type-A, Type-B, and the reversible Type-C connectors. The connector type used depends on the specific implementation and hardware.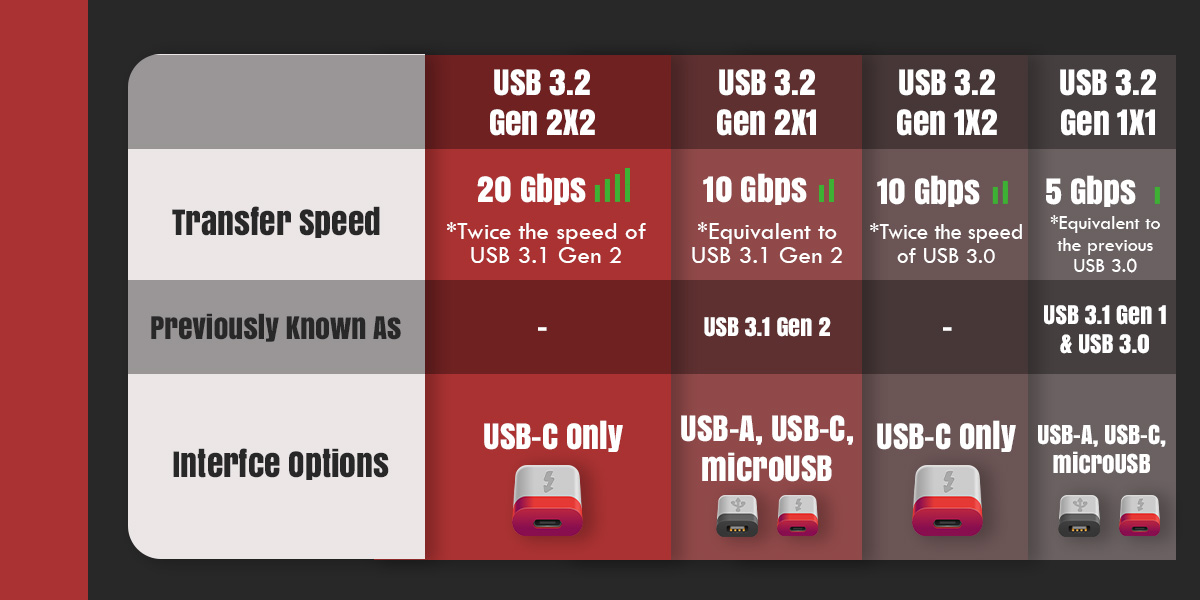 USB 3.2 Gen 2x2: Twice the speed of USB 3.1 Gen 2 (20 Gbps).



USB 3.2 Gen 2x1: Equivalent to USB 3.1 Gen 2 (10 Gbps).



USB 3.2 Gen 1x2: Twice the speed of USB 3.0 (10 Gbps).



USB 3.2 Gen 1x1:Equivalent to the previous USB 3.0 (5 Gbps).



ICY DOCK USB Enclosures:
At ICY DOCK, we offer wide range of external USB enclosures for different type of drives including 2.5" SATA SSD/HDD, 2.5" U.2 NVMe SSD and M.2 SATA/NVMe SSD.
MB031U-1SMB
- 2.5" SATA or M.2 SATA drive
- USB 3.2 Gen 1x1 Type-A
- Up to 5Gbps transfer rate
Learn More
Buy Now
MB104U-1SMB
-2.5" SATA or M.2 SATA/NVMe drive
- USB 3.2 Gen 2x1 Type-C
- Up to 10Gbps transfer rate
Learn More
Buy Now
MB809U3-1M2B
- M.2 SATA SSD
- USB 3.2 Gen 1x1 Type A
- Up to 5Gbps transfer rate
Learn More
Buy Now
MB861U31-1M2B
- M.2 NVMe SSD
- USB 3.2 Gen 2x1 Type C + A
- Up to 10Gbps transfer rate
Learn More
Buy Now
MB931U-1VB R1
- 2.5" U.2 NVMe SSD
- USB 3.2 Gen 2x1 Type-C
- Up to 10Gbps transfer rate
Learn More
Buy Now