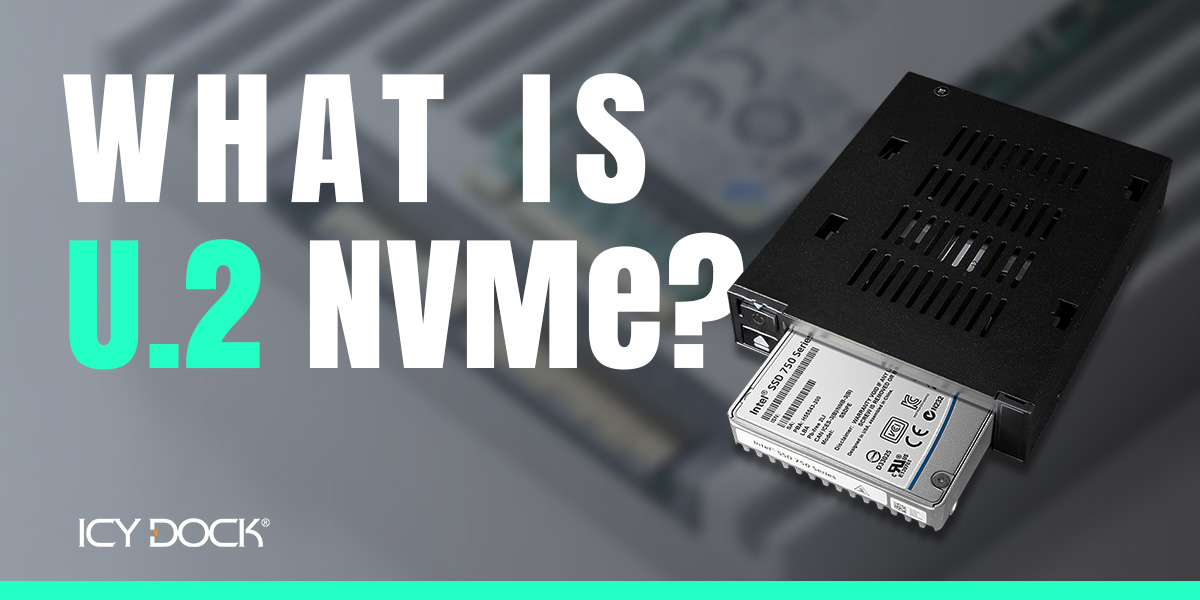 What is U.2 NVMe?
U.2, also known as SFF-8639, is a physical connector standard for connecting various types of storage devices, including SSDs, to a computer or server. It is often used in enterprise and data center environments and is known for its high-speed, high-density connections. U.2 connectors can support both SAS (Serial Attached SCSI) and NVMe protocols for SSDs.

NVMe, which stands for Non-Volatile Memory Express, is a protocol designed specifically for flash-based storage devices like SSDs. NVMe provides a faster and more efficient way for the operating system to communicate with SSDs. It offers significantly faster data transfer speeds at 64Gbps compared to older storage interfaces like SATA at 6Gbps. NVMe SSDs are known for their high performance, low latency, and parallel data processing capabilities.

When U.2 and NVMe are combined, it offers several advantages in high-performance storage solutions suitable for enterprise applications, data centers, and other situations where rapid data access and low latency are critical. Here are some key features and advantages of NVMe:

Low Latency: NVMe is designed to minimize latency, resulting in near-instantaneous data access. This low latency is crucial for applications that require real-time data processing, such as financial trading or database applications.

Parallelism: NVMe drives are inherently parallel, which means they can handle multiple data requests simultaneously. This parallelism can improve system responsiveness and throughput, making them well-suited for multitasking and multitiered storage solutions.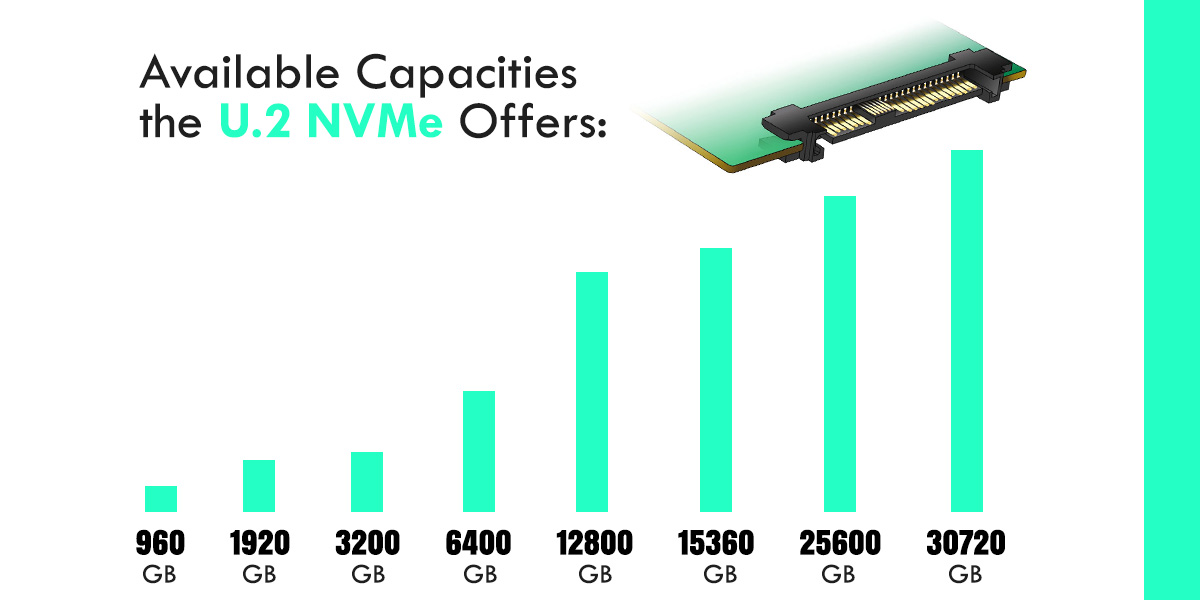 Scalability: U.2 NVMe drives are available in various capacities up to 30.72TB, allowing organizations to scale their storage needs easily. They can accommodate the increasing demands of data growth and maintain high performance levels even with larger storage configurations.

Endurance: NVMe SSDs are known for their durability and high endurance ratings. They can handle a large number of write and erase cycles, making them suitable for demanding workloads.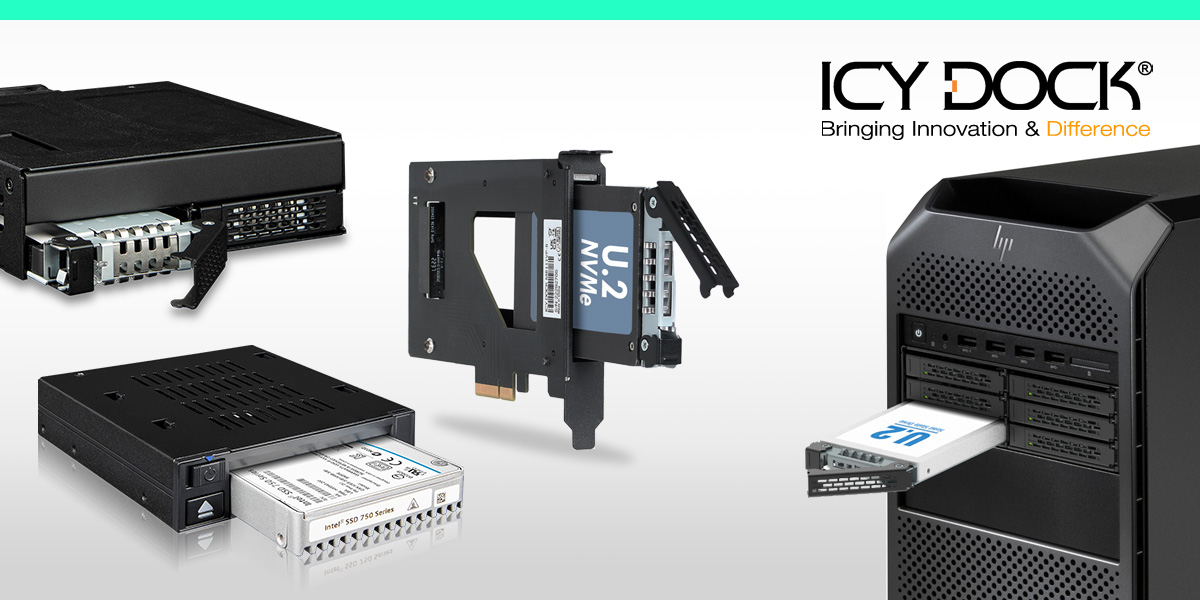 At Icy Dock, we offer several rugged full-metal U.2 NVMe SSD enclosures meticulously crafted to safeguard your valuable data while enabling lightning-fast data transfer speeds.
U.2 NVMe Enclosures
ToughArmor MB111VP-B

Fits 1 x 2.5" U.2/U.3 NVMe SSD
(up to 9.5mm drive height)

Compatible with PCIe 4.0 x4/ x8 /x16 Slot

Narrow design allows for multiple bays to be installed side-by-side

Learn More
Buy Now
flexiDOCK MB021VP-B

Fits 1 x 2.5" U.2/U.3 NVMe SSD
(up to 15mm drive height)

Uses 1 x SlimSAS (SFF-8654 4i) connector

Fits in 1 x external 3.5" drive bay

Door-less and tray-less design for a quick bare drive swap

Learn More
Buy Now
ToughArmor MB601VK-B

Fits 1 x 2.5" U.2/U.3 NVMe SSD or 2.5" SAS / SATA SSD (up to 15mm drive height)

Uses 1 x U.2 SFF-8639 connector

Fits 1 x external 3.5" drive bay

Eagle-hook lock system and 2-segment safeguard key lock keeps drives secure within the enclosure

Learn More
Buy Now
ToughArmor MB092VK-B

Fits 2 x 2.5" U.2/U.3 NVMe SSDs
(up to 9.5mm drive height)

Uses 2 x SlimSAS (SFF-8654 4i) connector

Fits 1 x external 3.5" drive bay

Eagle-hook lock system and 2-segment safeguard key lock keeps drives secure within the enclosure

Learn More
Buy Now
ToughArmor MB105VP-B

Fits 2 x 2.5" U.2/U.3 NVMe SSDs
(up to 15mm drive height)

Uses 1 x Slimline SAS (SFF-8654 8i) connector

Fits 1 x external 5.25" device bay

High-performance 40x20mm cooling fan with three fan adjustable speed settings (High, Low, Off)

Learn More
Buy Now
ToughArmor MB699VP-B V3

Fits 4 x 2.5" U.2/U.3 NVMe SSDs
(up to 15mm drive height)

Uses 4 x OCuLink (SFF-8612 4i) connectors

Fits 1 x external 5.25" device bay

Supports Tri-mode controllers PCIe/NVMe pinout (Broadcom, Areca, and more)

Learn More
Buy Now
ToughArmor MB118VP-B

Fits 6 x 2.5" U.2/U.3 NVMe SSDs
(up to 9.5mm drive height)

Uses 3 x SlimSAS (SFF-8654 8i) connectors

Fits 1 x external 5.25" device bay

Supports Tri-mode controllers PCIe/NVMe pinout (Broadcom, Areca, and more)

Learn More
Buy Now