Q: Can you recommend an add-on card that works with MB705M2P-B?
A: The following add-on cards are compatible with MB705M2P-B. We highly recommend using the official cable for the best compatibility.
Note:We highly recommend purchasing the cable from a local reseller that you trust. However, if you have a hard time finding the cables, PC-Pitstop is our long term partner, and they are able to ship worldwide.
We are currently certifying our NVMe enclosure with the major add-on card manufacturers. We will be adding compatible add-on cards to the list.

You can click here to report a compatible add-on card/cable. If you want to check the compatibility of add-on card(s) that are not on the list, please click here.
---
Q: I'm using Intel/Broadcom Tri-Mode HBA and RAID cards with the MB705M2P-B, but the drives do not show up in my system?
A: The issue is caused by RAID card manufacturers using a different pinout for Tri-Mode cards than is typically used for U.2 connections. When using these cards with U.2 NVMe drives and cables, a U.2 enabler cable must be used for compatibility, which reverts the pinout back to standard U.2 specifications. For more information, please click here.
---
Q: The system does not detect the M.2 SSD I installed in the ICY DOCK enclosure. What should I do?
A: Since the M.2 SSD is not designed for hot-swapping, we highly recommend powering off the device/system before inserting or removing an M.2 SSD. If the system is still unable to detect the drive, follow the steps below to scan for new hardware manually:
Windows 11 / Windows 10 / Windows 8 – In the search box on the taskbar, type device manager, and click it from the menu. Once the device manager window pops up, right-click on the disk drive icon, and click scan for hardware changes.
Windows 7 – Right-click on the computer icon on the desktop, select properties, click device manager, right-click on the disk drive icon and then click scan for hardware changes.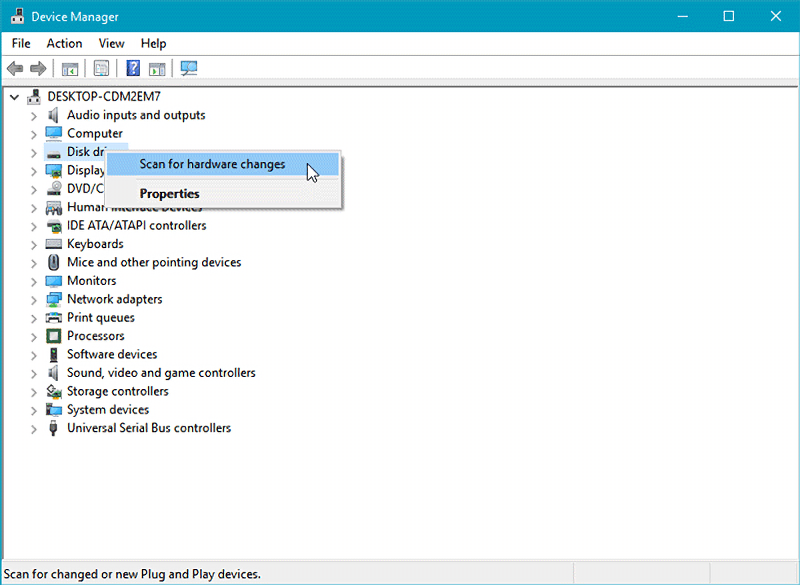 ---
Q:Is the ICY DOCK NVMe enclosure supporting the PCIe 4.0 standard?
A: Yes, all ICY DOCK NVMe enclosures support the PCIe 4.0x4 standard, with up to 64Gbps transfer rates.