Q: The system does not detect the M.2 SSD I installed in the ICY DOCK enclosure. What should I do?
A: Since the M.2 SSD is not designed for hot-swapping, we highly recommend powering off the device/system before inserting or removing an M.2 SSD. If the system is still unable to detect the drive, follow the steps below to scan for new hardware manually:
Windows 11 / Windows 10 / Windows 8 – In the search box on the taskbar, type device manager, and click it from the menu. Once the device manager window pops up, right-click on the disk drive icon, and click scan for hardware changes.
Windows 7 – Right-click on the computer icon on the desktop, select properties, click device manager, right-click on the disk drive icon and then click scan for hardware changes.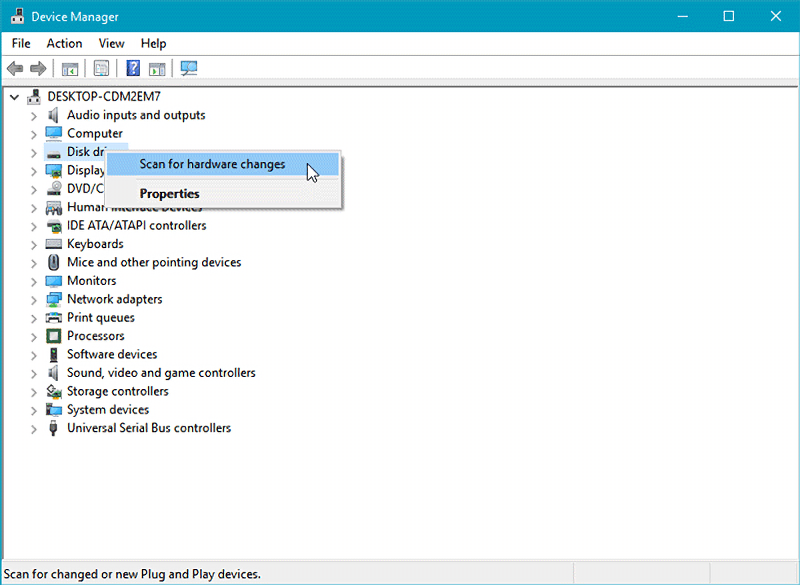 ---
Q: Is the ICY DOCK NVMe enclosure supporting the PCIe 4.0 standard?
A: Yes, all ICY DOCK NVMe enclosures support the PCIe 4.0x4 standard, with up to 64Gbps transfer rates.
---
Q: I'm having the difficulties closing the lid of the drive tray and unable to insert the drive tray all the way to the drive enclosure after placing the M.2 SSD onto the drive tray.
A: Make sure to lock the M.2 SSD with the adjustable M.2 locker. The tray lid will not close properly if the M.2 locker is not fully secured. If you are having difficulty secure the M.2 locker or close the cover, the M.2 SSD you are using may not follow the standard M.2 SSD thickness, which is less than 1.5mm height for each side with a total height that does not exceed 3.8mm. Using the M.2 SSD with non-standard thickness will cause improper tension on the M.2 locker and tray lid and make the M.2 connector misaligned. If you are having issues inserting the drive tray to the enclosure, please stop the operation immediately and check the drive thickness to ensure it follows the standard M.2 SSD thickness - less than 1.5mm height for each side and less than 3.8mm for total height.
Note: Some M.2 SSD uses a metal heat dissipation sticker that causes each side's thickness more than the 1.5mm. Remove the sticker will solve the problem, but do it at your own risk (might void the warranty of SSD)
ICY DOCK enclosure is design to be compatible with M.2 SSD that has standard thickness. We highly recommend checking the drive thickness before purchase, and please refer to the incompatible M.2 SSD list below for further information:
M.2 NVMe SSDs known to be incompatible with ICY DOCK enclosure:
Please contact tech@icydock.com if the problem persists so we can resolve the issue as soon as possible.
Click here to report a compatible/incompatible M.2 SSD.